Worth It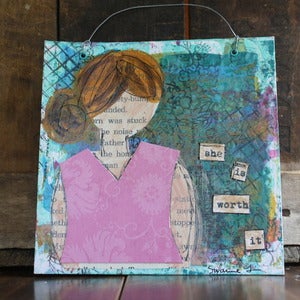 Worth It
$

20.00
The Inspired Art series was…well, inspired...by the common need for a compassionate perspective, that while today may be a day we would do over given the chance, tomorrow is new canvas, bright and clean. That our best is good enough. That we are good enough, flaws and all.

By design, each Inspired Art Girl is painted without a face, so that whoever sees it can envision themselves within its frame. In this way each Girl becomes personal to the eye of whoever views her.
They are heartfelt gift to a friend whose car needs repairs, whose toddler has a fever, who winces at the breakfast dishes still in the sink at dinnertime, whose hundred-item to-do list keeps her awake at night.

They make a sweet present for the sweet daughter who tried out for the junior high swim team but didn't make the cut.

And since the pep talks we give ourselves can make the most difference, they are the perfect present from you to you.
These mixed media pieces are 6x6 in sized. Crafted with paper, paint and whatever other goodies I might find while rummaging my supply closet. Are secured by a wire and ready to hang.
Shipping
Alone
With Others
United States

$

5.00

$

3.00